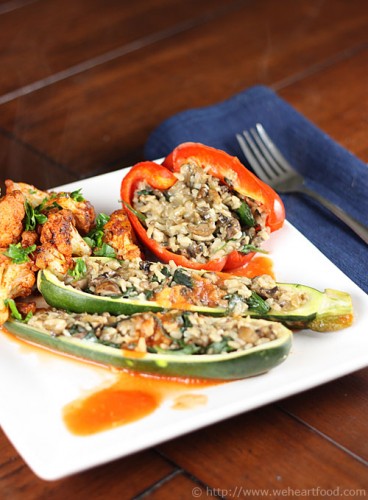 As we neared the end of our week, we still had a few different vegetables left over from ye olde CSA box to use up, and these two recipes allowed us to do that without having to go grocery shopping: we pretty much had the rest of the ingredients on hand. The stuffed vegetables were adapted from a recipe in Moosewood Restaurant Low-Fat Favorites: Flavorful Recipes for Healthful Meals
; the original uses medium-sized zucchini — we only had a few small ones, but we also had a bell pepper that seemed like it would work well to receive the leftover filling. The cauliflower recipe comes from Fresh Spanish: Over 80 Healthy Spanish Recipes
, and has a nice bite to it from the vinegar, garlic, and paprika. Leftovers were easily reheated and tasted great the next day.
[donotprint]
Lisa says:
I like these tag-team nights.
Chris says:
You mean where we're both cooking?
Lisa says:
Yep!
Chris says:
Same here. Although I could do without having to do half the dishes… ha!
Lisa says:
Hey! Comes with the territory…
Chris says:
Anway, good job on the zucchini boats. They're really good.
Lisa says:
I know, I like them! That filling is so delicious with those mushrooms… good idea on using the red pepper to use up the rest of the stuffing.
Chris says:
Even if we hadn't had that pepper, the stuffing wouldn't have gone to waste; I'm sure we just would have had it on its own.
Lisa says:
That's true… this cauliflower rules by the way.
Chris says:
Yeah I love the garlic… we should try this same recipe with broccoli and see how that works.
Lisa says:
Yum… I'm sure it would be just as delicious.
Chris says:
Guess we'll see what the CSA fairy brings next time…
[/donotprint]
Mushroom-and-Spinach Stuffed Vegetables
5 small zucchini
1 medium red bell pepper
1/2 large onion, minced
3 garlic cloves minced
1/2 tsp salt
1 tsp extra-virgin olive oil
3 cups chopped portabella mushrooms
1 tsp dried dill
1 tbsp dry sherry
2 tsp soy sauce
5 oz Spinach
1 cup cooked brown rice
Salt and ground black pepper
3/4 cup tomato juice
1/2 cup grated fontina cheese
Slice the zucchini in half lengthwise and, using a small spoon, scoop out the insides leave a canoe-shaped shell. Slice the red bell pepper in half lengthwise and remove the inner membranes and seeds. Set aside.
In a skillet, saute the onions, garlic, and salt in the oil on low heat, stirring often, until the onions soften. Add the mushrooms, dill, sherry, and soy sauce and cook for about 5 more minutes. When the mushrooms are just tender, remove from heat and set aside.
Preheat the oven to 350 F. While the mushrooms are cooking, rinse and stem the spinach. In a saucepan, steam the spinach leaves in enough water to cover until wilted but still bright green. Drain and add it to the sauteed vegetables. Stir in the rice and add salt and pepper to taste.
Pour the tomato juice evenly around the bottom of an 9×12 inch glass baking dish. Distribute the filling between the zucchini boats and red bell pepper. Sprinkle on the grated cheese, cover the pan tightly with foil, and bake for about 30 minutes, until the zucchini are tender and easily pierced with a fork.
Uncover and bake for another 5 to 10 minutes, until the tops are browned.
3-4 Servings
Garlicky Cauliflower
1 head of cauliflower, cut into bite-sized florets
4 tbsp olive oil
4 garlic cloves, finely chopped
1 tbsp mild paprika
2 tbsp white wine vinegar
salt and freshly ground pepper
flat leaf parsley, finely chopped
Bring a large pot of salted water to a boil. Add the cauliflower and cook for 6-8 minutes. Drain and set aside.
Heat the oil in a large, nonstick skillet. Add the garlic and cook over a medium heat, stirring for 2 minutes. Add the cauliflower, paprika, and vinegar. Season to taste with salt and pepper. Cook over very high heat, stirring, for 3-4 minutes, then remove to a serving platter. Garnish with parsley and serve immediately.
3-4 Servings
posted in Fresh Spanish, Main Dishes, Moosewood Low-Fat Favorites, Sides, Spanish, Vegetarian | 3 Comments