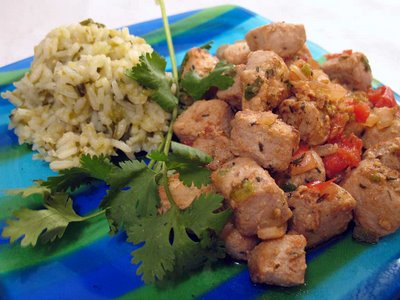 This is the first recipe we've made from The Border Cookbook, which features home cooking from the American Southwest and Northern Mexico. Marinated tuna is quickly seared in a pan with onion, tomatoes, and peppers. We served it with Green Rice, which is quickly becoming our go-to side dish for Southwest dishes.
Chris says:
Wow, this might be one of my favorite dishes. I love recipes like this; simple and yet really flavorful.
Lisa says:
Mmmmmmm… I agree — it's really good, and unique!
Tuna Machaca
————
(Marinade)
1/2 cup olive oil
Juice of 1 lemon
3 garlic cloves, minced
2 tsp soy sauce
1 tsp dried thyme
1 serrano, minced
1 1/2 lbs fresh tuna steak, cut in 1/2-3/4 inch dice
1 Roma tomato, chopped
1 small onion, minced
1 serrano, minced
2 green onion tops, minced
1 tbsp butter
In a shallow dish, combine the marinade ingredients. Stir in the tuna and let the mixture sit at room temperature for 15 minutes.
Warm a large, heavy skillet over high heat. Drain the tuna from the marinade. When the skillet is very hot, place the tuna and marinade that still clings to the pieces in the skillet. Immediately add the tomato, onion, serrano, and green onion tops. Fry just 1 or 2 minutes, stirring constantly. Avoid overcooking or the tuna will become dry. It should be seared on the outside with just a hint of pink remaining in the center. Stir in the butter just before removing the machaca from the heat, and serve immediately.
4 servings.