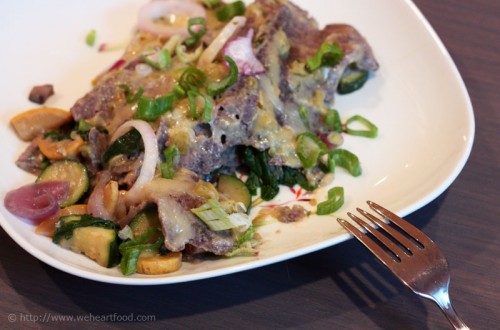 Lisa wanted to make dinner tonight, and we had a ton of vegetables to use up from our CSA box, so we came up with these vegetarian enchiladas, filled with summer squash, spinach, and mushrooms, and topped with a green chile enchilada sauce.  Photogenic?  Not so much.  Healthy, full of veggies, and quick?  Absolutely!
Lisa says:
How come all the food I make is ugly?
Chris says:
Hey! All the food you make isn't ugly; and I think the biggest reason this one isn't exactly photogenic is because of the blue tortillas.
Lisa says:
Hmm… maybe… I love that enchilada sauce, it's got a really nice flavor.
Chris says:
I like the creaminess from the creme fraiche.
Lisa says:
The filling is awesome — I don't miss not having meat in there.
Chris says:
Totally — and I like using up all our CSA veggies from the fridge.
Lisa says:
I can't wait to have ugly but delicious leftovers tomorrow. 🙂
UBD Summer Squash Veggie Enchiladas

1 14-oz can green chile enchilada sauce
1/4 cup minced cilantro
1 tbsp creme fraiche
1 1/2 cups mixed summer squash, cubed
8 oz mushrooms, stemmed and sliced
3 garlic cloves, minced
2 red salad onions, bulbs and stems thinly sliced OR 1 large red onion, sliced
10 oz spinach
10 corn tortillas
pepper-jack cheese for garnish
Preheat oven to 350 degrees.
Heat 1 tbsp olive oil in a large skillet over medium-high heat. Add the summer squash and mushrooms; cook for a couple of minutes until the mushrooms start to brown.  Add the garlic, about three quarters of the red onion and continue cooking until the onions turn translucent and the squash is crisp-tender.  Add the spinach and red salad onion stems, stirring constantly, until the spinach is wilted.  Season with a teaspoon of salt, and cover to keep warm.
Lay out the tortillas on a baking sheet and spray on both sides with cooking oil, then stack in twos. Bake for 3 minutes or until soft and pliable. Remove and stack in a single pile; cover with a kitchen towel to keep warm.
In a small pot, heat the enchilada sauce to boiling, then lower the heat.  Stir in cilantro and the creme fraiche into the sauce.  Taste and season with salt, if desired.  Hold a tortilla by one edge and dip into the sauce.  Fill the center with 2 heaping tablespoons of the filling, then roll and lay seam side down in a 9×13 baking dish. Repeat with the remaining tortillas. Sprinkle with shredded cheese and remaining red onion, and bake for 5-10 minutes, until cheese is melted. Garnish with additional salad onions.
Makes 10 enchiladas.