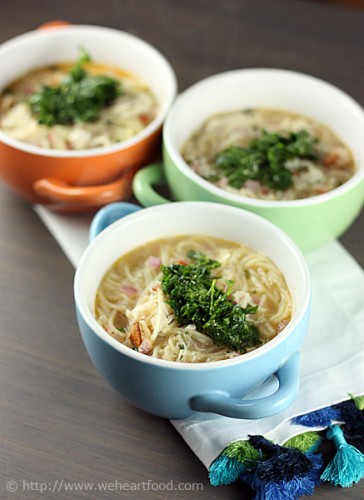 Carrie came over this week for dinner and we enjoyed this crab soup with a spinach salad and plenty of wine. The cilantro relish was a big hit, and though crab is expensive, it was totally worth it in this dish. We all loved it! The recipe comes from The Ultimate Soup Bible
.
Carrie says:
Yum, I love crab!
Lisa says:
This soup is awesome…
Chris says:
I think there's probably a bit too many noodles, but other than that I'm in love with this soup!
Lisa says:
Too many noodles in the recipe?
Chris says:
Nah, the recipe itself is probably a good amount, but my estimating skills are lacking. Determining five ounces out of a package of 16 when some unknown portion of them have already been used apparently is a challenge for me.
Lisa says:
The cilantro topping is awesome.
Carrie says:
Can I have more?
Chris says:
Yes! Let's finish the batch!
Lisa says:
Leave room for dessert…
Dungeness Crab Soup with Cilantro Relish
SOUP:
2 tbsp extra virgin olive oil
1 red onion, finely chipped
2 red chilies, seeded and finely chopped
2 cloves garlic, minced
1 lb fresh Dungeness crab meat
2 tbsp chopped parsley
2 tbsp chopped cilantro
juice of 2 lemons
1 lemongrass stalk
4 cups chicken stock
1 tbsp Thai fish sauce
5 oz angel hair pasta, broken into 2-3 inch lengths
salt and fresh ground pepper
RELISH:
1 cup cilantro leaves
1 green chili, seeded and chopped
1 tbsp olive oil
1 1/2 tbsp lemon juice
1/2 tsp ground roasted cumin seeds
Heat the oil in a large dutch oven and add the onion, chilies, and garlic. Cook over medium-low heat for 10 minutes until the onion is very soft. Transfer the cooked onion mixture to a bowl and stir in the crab meat, parsley, cilantro, and lemon juice, and set aside.
Bruise the lemongrass on a chopping board. Pour the stock and fish sauce into the dutch oven. Add the lemongrass and bring to a boil, then add teh pasta. Lower the heat and simmer uncovered for 3-4 minutes until the pasta is just tender.
While the soup is simmering, prepare the relish by using a mortar and pestle to make a coarse paste of the cilantro, chili, oil, lemon juice, and cumin.
Remove and discard the lemongrass from the soup. Add the crab mixture into the soup and season with salt and pepper to taste. Bring to a boil, then set on low and simmer for two minutes.
Ladle the soup into four bowls and put a spoonful of the cilantro relish in the center of each.
4 Servings