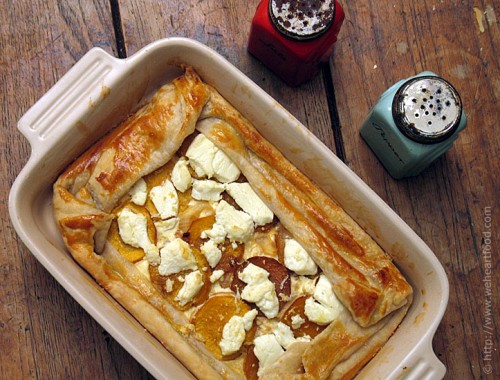 What a delicious, rich treat while on vacation! Lisa noticed this recipe on 101 Cookbooks before we left, and we made sure to buy the ingredients so we could make this dish while on our little outing over the New Year's holiday. The four of us ate really well — Black Bean Chili, Grilled Tuna with roasted potatoes and Brussels sprouts, pancakes, loaded sandwiches… hooray for planning! We made two tarts from this recipe; one was without the caramelized onions, because you-know-who doesn't like them. [donotprint] It's okay, though, because she got us the awesome salt and pepper shakers shown in the picture above for Christmas. 😉
Chris says:
Wow, we never make stuff like this.
Lisa says:
I know, I can't even remember the last time I bought puff pastry. I like the grated zest on top.
Abbie says:
Well thanks for making one without onions, guys; this is really good.
Chris says:
It's even better with the onions… you should try a piece.
Thad says:
I think it adds a nice sweet flavor to it.
Abbie says:
Hmmm… okay, here goes… wow… hmm… not bad!
Lisa says:
Your squished face would seem to say otherwise…
Abbie says:
No, really, I didn't mind it, it just… kept coming… so much onion in my mouth.
Chris says:
Hmmm… well, more of the onion one for us I guess. Wahoo!
[/donotprint]
Butternut Squash and Goat Cheese Tart
1 package of puff pastry dough (2 sheets)
zest of one lemon
1 cup ricotta cheese
1 egg plus one egg yolk
1/2 cup caramelized onions
1/4 teaspoon sea salt
10 very thin (1/8-inch) slices of butternut squash, pre-cooked in a bit of olive oil in a covered pan for 2-3 minutes
6 – 10 very thin slices of goat cheese
pepper
Preheat oven to 375.
Thaw the puff pastry dough. Put it out on a lightly floured counter top and roll it out thin to fit your tart pan or baking dish. Leave about an inch worth of edges draped over the pan to fold back in over the filling later. Prick the dough in the middle of the tart a few times with the tines of a fork, and sprinkle most of the lemon zest right onto the rolled-out dough.
In a small bowl mix the ricotta, one egg, onions and salt together. Spread the ricotta mixture onto the base of the tart. Don't go quite all the way to the edge, it makes it hard to fold the edges over later. Arrange the slices of squash on top, and the slices of goat cheese on top of the squash.
Fold the edges of the pastry back in toward the filling (an inch or so). Brush the pastry with the egg yolk and bake for 30-35 minutes or until tart shell is golden and the filling has set.
This entry was posted on Sunday, January 4th, 2009 at 5:28 pm and is filed under
Main Dishes
. You can follow any responses to this entry through the
RSS 2.0
feed. You can
leave a response
, or
trackback
from your own site.