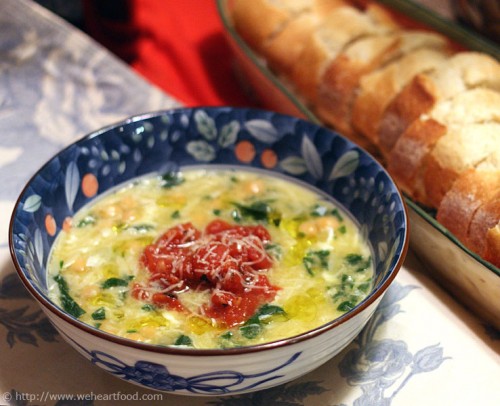 Lisa made this soup when we were in California during the holidays — orzo, chickpeas, and spinach swim in a simple vegetable broth, topped with garlicky tomatoes and shredded Parmesan. Lisa's dad liked the soup so much he decided to make it again just a few days later. The recipe is based on one from Heidi's site, with a few additions.
[donotprint]
Chris says:
A delicious noodle soup, orzo it seems
Lisa says:
C'mon, no puns tonight please.
Chris says:
Alright, fine. I do love the addition of the chickpeas…
Seto says:
This is very good Lisa! I'm having more.
Lisa says:
Awesome! I love the egg whites… they add a neat texture to the broth.
Chris says:
I bet this would be good with the kale option as well — if we make this when we get back to Seattle let's do it that way.
Seto says:
I'll be making this myself by the end of the week. Leave me the recipe…
[/donotprint]
7 cups vegetable broth
1 1/2 cups orzo
2 cups spinach, chopped
1 14-oz can chickpeas (garbanzo beans)
1 14-oz can fire-roasted diced tomatoes, well drained
1 tsp crushed red pepper
2-3 cloves garlic, minced
extra virgin olive oil
3 egg whites
sea salt
grated Parmesan cheese
Bring the broth to a boil in a large saucepan. Add the orzo and cook until just tender – about ten minutes. Stir in the chopped spinach and chickpeas.
Meanwhile, heat the tomatoes, red pepper, garlic, and a splash of extra virgin olive oil in a separate saucepan. Taste for seasoning and salt if needed.
Just before serving, slowly pour the egg whites into the soup, stirring quickly with a whisk. Taste and add more salt if needed. Divide the soup among four bowls, each serving topped with a spoonful of tomatoes, a drizzle of olive oil, and some of the cheese.
4-6 Servings