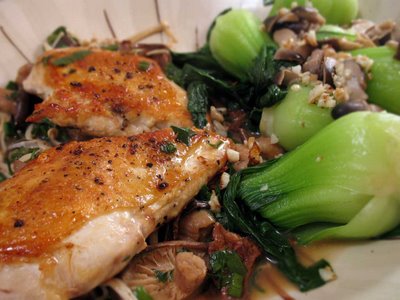 Tonight I made two new recipes, each the first recipe we've tried in two new books — from The Mushroom Lover's Mushroom Cookbook, Boneless Chicken Breasts with Wild Mushrooms and Enoki, and from Asian Flavors, Baby Bok Choy with Garlic and Straw Mushrooms.
Lisa says:
Wow — you can really taste the wine in this.
Chris says:
Yeah, I kinda wish we had the cognac that the recipe calls for on hand.
Lisa says:
Really? I love the wine — and the really interesting variety of mushrooms!
Chris says:
Yeah, it's delicious. I just ended up getting a bunch of different mushroom varieties because I couldn't find Mousserons. What about the bok choy?
Lisa says:
Mmmmmm, so good! You know I'm going to say that it needs more garlic — but what doesn't?
Boneless Chicken Breasts with Mousserons and Enoki
————————————————–
2 large boneless chicken breasts, with skin
Sea salt and freshly ground pepper
1 tbsp olive oil
4 scallions, trimmed and thinly sliced, green and white parts separated
8 oz fresh mousserons, cleaned, or 1 oz dried mousserons or wild mushrooms *
2 tbsp Cognac or 1/4 cup dry red or white wine
1 cup chicken stock
1 3.5 package enoki mushrooms, trimmed and broken into 5-6 clumps
2 tbsp chopped fresh flat-leaf parsley
Sprinkle both sides of the chicken breasts with salt and pepper. Heat the oil in a large, heavy skillet, preferably nonstick. Add the chicken breasts, skin side down, and cook until the skin is deep golden brown and crisp, about 6 minutes. Turn the chicken breasts over, reduce the heat to medium low, and continue cooking until no trace of pink remains in the thickest part of the chicken, about 6 minutes.
Remove the chicken breasts, add the scallion whites and mousserons or wild mushrooms. Cook until the mushrooms are wilted, about 3 minutes. Add the Cognac or wine and cook until evaporated. Add the stock and boil until the sauce is reduced to about 1/4 cup, about 4 minutes. Add the enoki, parsley, and scallion greens and stir to mix. Return the chicken to the skillet, skin side up. Reduce the heat and simmer 2 minutes.
Serve hot, spooning half of the mushroom mixture and sauce onto each of 2 plates and topping it with a chicken breast.
* If using dried mushrooms, reconstitute by pouring hot chicken stock over the mushrooms in a bowl and letting sit for 10-15 minutes. Drain the mushrooms, then strain the soaking liquid through a coffee filter and save for use in the recipe.
2 Servings
Baby Bok Choy with Garlic & Straw Mushrooms
——————————————-
1 lb baby bok choy
1 tbsp peanut oil
2 garlic cloves, chopped
4 oz straw mushrooms, halved
2 tbsp rice wine
pinch of sugar
pinch of salt
Blanch the bok choy in a saucepan of boiling water for one minute. Drain, and cool by running under cold water.
Heat the oil in a wok, add the garlic and fry gently for one minute until golden. Drain from the wok and set aside. Add the straw mushrooms and bok choy and stir-fry over high heat for two minutes. Add the rice wine, sugar, and salt, and stir until the vegetables are coated in the wok juices.
Transfer to a serving plate, spoon over the garlic, and serve at once.
4 Servings