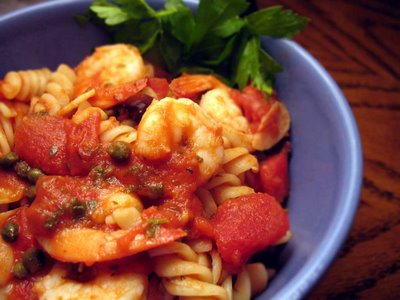 A return to my favorite tomato sauce tonight, this time swapping out the angel hair for fusilli. Shrimp seems to go really well with this sauce made with anchovies, capers, olives, and garlic.
Lisa says:
What gives? We've made this before…
Chris says:
Yeah, well that was before we had our witty banter up. Plus I changed it just a bit, and I figured my submission for Presto Pasta Night should be my favorite sauce of all time.
Lisa says:
Witty, huh? Anway, this is soooo delicious. I love it. Remember I used to hate puttanesca? …I still don't like olives.
Chris says:
Give 'em here! They're essential to the dish! How about I take a picture that doesn't show many of them — maybe when you look at this later you'll forget they were ever there.
Puttanesca Fusilli with Shrimp
—————-
1 tbsp extra-virgin olive oil
3 garlic cloves, slivered
1 garlic clove, minced
3 1/2 cups diced plum tomatoes
1/4 cup minced parsley
3 tbsp kalamata olives, roughly chopped
2 tsp oregano
1 1/2 tbsp capers
2 tsp anchovy paste
3/4 tsp crushed red pepper, more to taste
shrimp (optional)
3-4 cups cooked fusilli
Heat oil in a nonstick skillet over low heat. Add garlic and saute for 5 minutes. You want the garlic to be translucent, but not browned. Add tomato and next 6 ingredients (tomato through crushed red pepper) and bring to a boil. Reduce heat to medium; cook 10 minutes or until thick.
Meanwhile, if using shrimp, sautee the shrimp in a tsp or so of garlic-infused oil for 2-3 minutes or until opaque. Stir cooked shrimp into tomato mixture.
Combine tomato mixture and pasta and toss well. Garnish with oregano sprigs or fresh parsley.
3-4 servings
This entry was posted on Tuesday, October 16th, 2007 at 8:49 pm and is filed under
Main Dishes
. You can follow any responses to this entry through the
RSS 2.0
feed. You can
leave a response
, or
trackback
from your own site.