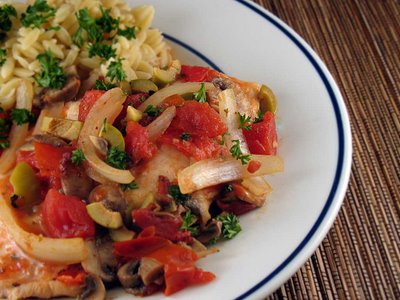 This recipe from Elise's Simply Recipes is quick and flavorful. Tilapia is cooked in a tomato, mushroom, and olive sauce, right on the stove. We served the fish with a side of orzo.
Lisa says:
My, these green olive chunks are big…
Chris says:
The better for you to pick them out, my dear.
Lisa says:
I'm not that picky, here, I'll try one…
Chris says:
Yay!
Lisa says:
…and only one. I do like the flavor of the sauce though!
Chris says:
I like the speed of this dish. I'm all for getting food to my mouth sooner.
Tilapia with Pimiento Sauce
(via Simply Recipes)
———————————
1 tbsp olive oil
1 small onion, cut into thin wedges
1 clove garlic, minced
1 14.5 oz diced tomatoes, undrained
1 cup sliced cremini mushrooms
3/4 cup pimiento-stuffed olives, coarsely chopped
1/2 teaspoon dried oregano
1/4 teaspoon salt
1/8 teaspoon freshly ground pepper
4 6-8 ounce tilapia fillets
In a large skillet over medium heat, add the oil, then cook the onions until softened, 2-3 minutes. Add the garlic, cooking for an additional minute. Add the tomatoes, mushrooms, olives, oregano, salt, and pepper, and bring to a boil.
Add each tilapia fillet to the pan and cover with some sauce. Bring back to a boil, then lower the heat, cover, and simmer for 8-10 minutes or until the fish flakes easily.
Use a wide spatula to gently remove the fish from the pan, transfer to a serving plate, and top with the sauce.
4 Servings
This entry was posted on Tuesday, December 11th, 2007 at 10:16 pm and is filed under
Main Dishes
. You can follow any responses to this entry through the
RSS 2.0
feed. You can
leave a response
, or
trackback
from your own site.